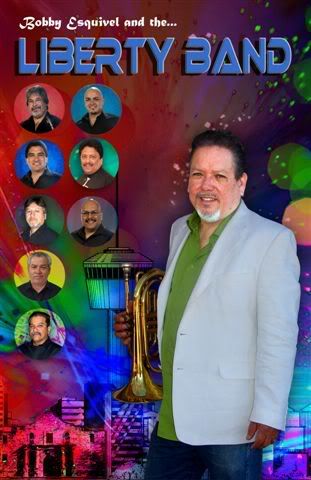 Bobby Esquivel will lead his big group - the Liberty Band - in a celebration to observe a rare occurance. It is not everyday that a band can lay claim to having been together some 33 years.
But that's exactly what the Liberty Band will be doing on Saturday, March 27 at the elegant Fountainbleu Ballroom, 8353 Culebra Rd. Tickets are $12-$15. Details available at
(210) 789-2484
or (210) 680-7000.
It just so happens also that Esquivel wil also be celebrating his brithday.
"Thanks everyone for your support," said Esquivel.
Like prevcious few other artits and bands in Central Texas LIberty band comes from a rich tradition.
Formed in 1977 by trombonist Bobby Esquivel, a 1972 Memorial High graduate, Liberty Band established itself as one of the premier music groups in Central Texas in the early '80s with a series of memorable albums.
Their calling card a big band approach with robust horn power.
For years they stood apart from the big herd, drawing comaprisons to other big bands of the day including LIttle Joe y La Familia and Ruben Ramos & Texas Revolution.
Liberty Band's latest CD is titled "Life is Good."
Comments
(0)
Subscribe to this comment's feed
Write comment