Page 1 of 2
Concerts Calendar10/14: Church fests, MJ tribute showcase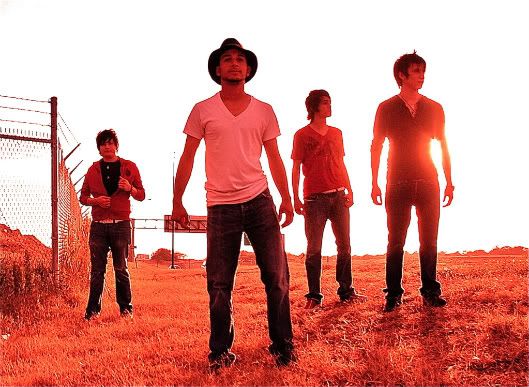 Super heavy schedule with lots of major club shows, top concerts and special attractions.
Von Army Yes, Emilio Navaira's kids are grow up and ready to be rockers. Their group, Von Army, is a play on their hometown Von Ormy, just
south of SA. They are spotlighting their debut CD "Von Army," Friday , Oct. 16 at Zombie's, 12285 Nacogdoches Rd.
Los Palominos & Johnny Cruz Top bands showcase music mix, El Rodeo Disco, 10531 Gulf Freeway, Houston. 9 p.m. Friday, Oct. 30
Texas Twister Big show featuring Tracy Lawrence and Little Joe. Freeport Municipal Park Landing. Honda of Lake Jackson presents Texas Twister Concert Series. Also performing Grupo Vida and Stampede. 4-10 p.m. Sunday, Oct. 25. Details: (979) 665-1923 f
Fama Tex-Mex band takes stage. B&N#2 Sports Bar, 4910 S. Flores. Friday, Oct. 16. Also with Grupo Pasion Top groups relaod. Club Exkandalo, 183 Solms Rd. Newf Braunfels. Saturday, Oct. 17
Rudy Palacios CD Release Party
Longtime performer Palacios celebrates CD release with help from friends -
Rick Balderrama, Chente Barrera, Jimmy Edward, David Lee Garza, Ram Herrera, Stefani Montiel, Henry Lee Parrilla, Ruben Ramos, Rudy Tee Gonzales
. 6 p.m. Thursday, Nov. 12. Pueblo Hall, 3315 Northwestern
Pleasanton Market Days Featuring Car anfd Bike Show, movie, Chihuahua dog races, arts and crafts booths, food booths, street dance. Music by Leslie Lugo Band, the 94s, Jimmy Spacek, Grupo Impozible, Floodgage, Dotado. Main St., Pleasanton Sat, Oct. 17.
Halloween Bash Featuring Grupo Maldad. 8 p.m. Friday, Oct. 30. B & N Sports Bar, 4910 S. Flores.
Calavera Fest Halloween bash features Bombasta Sound System, Mexican Stepgrandfather, DJ Chorizo Funk from Austin, live Aztec Dancers and much more! Sam's Burger Joint, 330 E. Grayson. 9 p.m. Saturday, Oct. 31.
Step Aside Rockers unload at Harley's & Blues f& BBQ! Saturday, Oct. 17 2-6 p.m. Free. Caliente
Harley Davidson, 7230 NW Loop 410
Little Joe 50TH Anniversary Little Joe celebrates his big anniversay. Also playing Roger Velasquez & Latin Legends. Salomon Oritz Entertainment Center, Corpus Christi. Nov. 27 $15. Presented by Mike Chavez
El Norteno Music Famed record store is reborn at a new location, just blocks from the old one. Owners Victor and Carmen promise continuation of great customer service and fine selection. 3505 Wurzbach Rd. next to the Valero gas station and right across from Dillard's at Ingram Mall. Mottos: "Musica en su Ideoma" and "The Latin Music Central." Grand opening Nov. 1.
Fiesta de Disfrases Party features DJ Sergio (Colombiano). Cabo Tropical Grille (Tiki Lounge), 7711 Guilbeau Rd. 7 p.m Friday, Oct. 30 $10 www.asociacionamigosdecolombia.org
Salsa Brava Headlines Latin Night at Poshs nightclub. Salsa/bachata classes by
Salsafix - 1st anniversary. Also salsa, merengue, cumbia, bachata music and more. 9 p.m. Wednesday, Oct. 28. Posh on 7959 Broadway.
La Calma Hosts CD Release Party. Augies Barbed Wire Smoke House, 3709 N. St. Mary's.  Nov. 5. (210) 735-0088
Los Tovares Solid Tejano band mixes it up. Thursday 10/15 Frio Saloon, 401 Frio. Never a cover. SMOKE-FREE Friosaloon.com. Also 5-Star Band, Oct. 16, 29; Canela, Oct. 22; Jesse DeLeon, Oct. 23; Henry Rivas, Oct. 30.
Grupo Maravia Top 40/variety band plays mix of hits and classics. 9:30 p.m. Saturday. Crazy J's Sports Bar, 126 Gembler Road. (210) 688-5915
Altarcitos Del Barrio Featuring displays of altars honoring deceased ancestors and loved ones. Also food and refreshments booths, and exhibits. 1-8 p.m. Sunday, Nov. 1. Presented by AUEDA- Action United for Entertainers and Diverse Artists, in conjunction with Avenida Guadalupe Association, Our Lady of Guadalupe Catholic Church. (210) 233-8480
Marcus Valdes Comedian presents show in tribute to Mexican comedic German Valdez "Tin Tan." Old San Francisco Steakhouse, 10223 Sahara St. 9 p.m. Oct. 24. $25. Tix at (210) 764-5204 or(210) 413-1698 www.azteca21.com www.horwathproductions.com
Henry Rivas Singer hosts CD release party. Also featuring David Lee Garza and Top Shelf. Cadillac Bar, 212 S. Flores. Nov. 12
Texas Music Coalition Fundraiser Music and mingling in TMC Annual Fundraiser with S.A. Blue Cats, Butch Morgan, Tim & Bob Show, The Melissa Ludwig Band, John fBerry, MC Doug Fesler. 6:30 p.m. Saturday, Oct. 24. Sam's Burger Joint, 330 E. Grayson. $5
Ruben Ramos & The Mexican Revolution Tejano heroes on tour. 8 p.m. Saturday, Oct. 31. Mexican Heritage Plaza, 1700 Alum Rock Ave. San Jose, CA.
Guero Polkas Anniversary Radio legend celebrates 50th anniversary with two parties. First, Blanco Ballroom Oct. 30 with Conjunto Kingz De Flavio Longoria, Henry Zimmerle y Su Conjunto San Antonio, Mickey y sus Carnales, Los Krystales De Mauricio Reyes, Los Texmaniacs w/Flaco Jimenez, OBG Band w/Sunny Ozuna & Jimmy Edwards. Then- Pueblo Hall, Nov. 6 with Carlos y Los Cacharros, Los Hermanos Deleon, Los Aguilares, La Tropa F, Ramiro "Ram" Herrera & Outlaw Band, Los Emascarados, Ruben Ramos & Tribute Band.
God save the King Major tribute to the late Michael Jackson scheduled in Broadbar club, Barcelona, Spain. Presented by Vanity producciones the show is set for Saturday, Oct. 24. The tribute concert will feature 80 groups including Maxi OT 09, Patty OT 09, Diana Feria, Nataly Salim, Laia Roc, Psoul Pockets. Also http://www.byebyemichael.com. Concert will be televised. www.europatelevision.com  This e-mail address is being protected from spambots. You need JavaScript enabled to view it
Who's Bad They are considered America's best Michael Jackson tribute band. Who are they? Who's Bad. Noche Caliente nightclub, 
2502 Pleasanton Rd. Monday, Oct. 19, 2009 Show starts at 9 p.m. Tickets ($10) are on sale at HEB on Military & Pleasanton. At door $15; minors $20. 18 & up welcome. Arrive early to avoid long lines. MJ fans are also excited about the Michael Jackson movie set to open Oct. 28
fA Slice of Comedy Featuring Jesse Pangilean, Roger Acevedo, and Edward Hernandez. 8 p.m. Saturday 10/17. Enchilada Warehouse, 2106 N. St. Marys. www.myspace.com/asliceofcomedy
The Toadies Texas rock group swings into town for Josabi's Josabi's Two Year Anniversary Show. Josabi's, 17200 Bandera Rd, Helotes, TX. (210) 372-9100. Friday Dec. 4 www.frontgatetickets.com www.josabis.com.
1st Annual Tejano Latin Rock Festival Featuring Gary Hobbs. Also Un Dia Mas, Los Daimes de Seguin, La Venganza, Ronnie Tee, Tetra Melody, Rynel. 1 p.m. Saturday, Oct. 17. $10. Warehouse Venue, 1305 E. Houston.
Drew Kennedy & Rodney Hayden Mix up acoustic set Josabi's. Oct. 15. Josabi's, 17200 Bandera Rd, Helotes, TX. (210) 372-9100. Also coming: George Devore Acoustic, Oct. 20; Quietdrive, Oct. 22; George Devore (full band), Oct. 23, Nov. 3, 20; Project Independent: 15 Bands & Brotherhood, Oct. 24; Skunkweed, Nov. 6; Bleu Edmondson Band (Full Band), Trainwreck, George Devore, Nov. 7; Bill Cauley - JUST BECAUSE PARTY, Nov. 14; Drew Kennedy & Rodney Hayden Acoustic, Nov. 7; The Toadies, for Josabi's 2-yr Anniversary, Dec. 4.
Granger Smith, Trey Wilson Country group to perform. Lone Star Saloon, Uvalde. Friday Oct 16. Also Oct. 23 - Bart Crow Band; Oct. 24, Fito Olivares; Saturday Oct 31 - Halloween Party, Costume Contest; Saturday Nov 28 - Ramon Ayala. Also AJ Castillo. Saturday, Oct. 17; Fito Olivares, Nov. 7.
US Military Veteran's Parade Association Fundraiser With Patsy Torres, Tribute Band. Friday, Oct. 23. Pueblo Hall,(SMOKE-FREE) 3315 Northwestern. 6:30 p.m. with the presentation of colors followed by a dance @ 7 p.m. $15. Geri Metzler (210) 492-3141 or 732-7566. J.R. Martinez, Iraq war veteran and actor on "All My Children" will be the 2009 Honorary Grand Marshal.
Club Thirstys New venue spotlights Joe Bravo and Carlos Miranda Oct. 17. Also David De Anda y Xelencia and Max Castilo y Su Conjunto, Oct. 24. HometownBoys Oct.30. $10Club Thirstys 262 West Jahn. New Braunfels. (512) 644-4626. Presented by RD & Slick Entertfainment Prod. Grupo Fama Legendary group on stage. Club Thirsty's, 262 West Jahn St. fNew Braunfels. Nov. 21. (512) 644-4626. Presented by RD & Slick Entertainment Prod. myspace.com/slickentertainmentproduct www.myspace.com/slickentertainmentproduct
 
Anniversary Casino Night Presented by Westside Sol and Health Texas, the fun event will include music by Mariachi Los Charros. Casino play includes craps, Black Jack, Texas Hold'Em, roulette and more. $25 per person includes 6 p.m. dinner, 7 p.m. Oct. 17 Casino play, prizes and giveaways. El Progresso Hall, 1301 Guadalupe. (210) 354-4765
Halloween Dance Featuring Ramiro Herrera and Los Tovares. $12. Presented by Adam Robles: Oct. 31 Pueblo Hall.
VFW Post 76 Live music series at scenic historic post by SA River continues. Sked: Bad Neighbor, Oct. 16; Los Bandaleros de Henry G, Oct 17;  Los Tovares, Oct. 23; Sound Rave, Oct. 30; Tribute Band, Oct. 31. VFW Post 76, 10 Tenth St (210) 223-4581 www.vfwpost76.org
1st Annual Harvest Fundraiser Featuring the Tribute Band with singer Ralph Cortez. 8 p.m. Oct. 24. Salon de Gala Ballroom, Radisson Hotel, Market Square, 502 W. Durango. $40 includes dinner. Info at Robert's Flower Shop (210) 432-1162 This e-mail address is being protected from spambots. You need JavaScript enabled to view it .
Oldies Night Special showcase featuring Bobby Esquivel & Liberty Band. Opening is Rocky Hernandez & OBG Band w/ singer Danny Esquivel. $10 presale at Janies and Del Bravo shops or Esquivel at 210-789-2484. $20 at door. Saturday, Nov. 7. SMOKE-FREE Fountain Bleu, 8353 Culebra.
19th Annual Mariachi Invitational Featuring six professional mariachi groups in competition. Also juvenil mariachis, infantil mariachis, as well as other artists. March 13-14, 2010. Verizon Wireless Theater, downtown Houston. $20-$30. Also March 14 at Reliant Park.
If you're a band, singer, manager, promoter, record label, or nightclub owner/manager, event producer, non-profit, send us your schedule: This e-mail address is being protected from spambots. You need JavaScript enabled to view it
2nd Annual Chili & Menudo Cookoff Featuring live music, raffles, Resurrection of the Lord