Major touring shows: TMAs, Schenker, Queensryche
Big rocks shows in addition to the Tejano Awards and Tejano Conjunto Festival are up on the touring calendar.
Big Spill Festival SXSW spillover always bring some action
to town. Now about 100 groups are scheduled to play SA for this inaugural 10-day festival. Groups include Spain's Tokyo Sex Destruction, London's The Gin Riots,  London's The Gin Riots, Snowbyrd and the Spark. Details: www.thebigspill09.com. Avenue B by Rock Bottom Tattoo Bar and the Warhol. March 13-22.
For shows coming up this week and the next 10 days check: Concerts Calendar 3/17
Taste of Chaos Tour Rock, metal, alt and more in this Fest topped by Thursday. Also Bring Me the Horizon, Four Year Strong, Pierce the Veil and Cancer Bats. 4:30 p.m. $22.25. Sunset Station, 1174 E. Commerce St., (210) 222-9481. March 22
Billy Joel/Elton John The first album by Elton John I bought was "Madman Across the Water," now considered a masterpiece with the gems "Tiny Dancer," "Levon," "Madman Across the Water," "Goodbye." Solid tagteam. AT&T Center. March 21. Ticketmaster.
2009 Tejano Music Awards Annual awards show unfolds in vew venue - Villita Assembly Hall. April 30. TMA Fanfair March 20-22, Market Square.
Los Lonely Boys Another big show by familiar blues-rock trio from San Angelo.  $20. Details: www.cowboysdancehall.com. Doors 7 p.m. Cowboys Dancehall, 3030 N.E. Loop 410 at I-35 North, (210) 646-9378. March 27
Britney Spears Former teen pop star has really grown up and is on tour behind her new appropriately? titled CD "Circus." Pussycat Dolls open. Sold out. 8 p.m. March 30 Toyota Center, Houston. (713) 758-7200
Michael Schenker Group Rock band headlines River City Bike Festival. Also Doug Doppler, Foghat. March 28.
SnoCore Tour '09  Bands include Static-X and Saliva, plus Burn Halo and the Flood. $20 at www.etix.com; $25 at the gate. 6 p.m. April 4. HemisFair Park, Nueva at South Alamo streets. www.snocore.com.
Oscar Rodriguez Virtuoso guitarist plays a hot mix of rock, blues, Tex-Mex and more. Grant St. Pizza, 8 p.m. Fridays; Pat O'Briens, 3 p.m. Saturdays.
Main Plaza Music Festival includes various events such as: Latin Lunes, a lunch-time series on Mondays through December. The lunch-time series runs through the week such as Ben King, Rebecca Valadez, Max Baca, Joe Posada, Claude "Butch" Morgan, Hot Sauce, Terry Cavanaugh. Raza en la Plaza is a 7 p.m. series with George Morin and Jazz Suave Friday. On Sunday it's Conjunto Tocadita at lunch with Foxy Garcia, accordion & Chucho Perales, bajo sexto. (210) 225-9800 www.mainplaza.org  
Dancing Under the Stars Weekly Thursday night jam session on the patio hosted by Los Hermanos De Leon with special guests who drop in. Regulars include Andy Saenz of the Homies, Salvador "El Pavo" Garcia of Los Pavo Reales, Bene Medina, Coy Serna, Mambo Ibarra, Henry Galvan, Flavio Longoria. Thursdays, Bosmans, 672 Elks @ Zarzamora myspace. com/bosmanshbk1, (210) 924-1016
Nickelback  Big rock band headlines tour stop. Latest CD, "Dark Horse." Also Seether and Saving Abel. $48.50-$68.50 at Ticketmaster. April 14. AT&T Center, East Houston Street at AT&T Center Parkway.
Siesta Fest Fest goes up against Fiesta 2009. Lineup: April Wine on April 22; C+C Music Factory, Cover Girls and Debbie Deb, April 23; and Naughty By Nature and Splack Pack, April 24. Family fest runs 5 p.m.-midnight. HemisFair Park, South Alamo St Also, South Texas Rock Fest, May 22-23
Bonnie Raitt  Blues-rock singer on tour with new CD "Souls Alike." $35-$65. 8 p.m. May 12. Majestic Theatre, 224 E. Houston St., (210) 226-3333.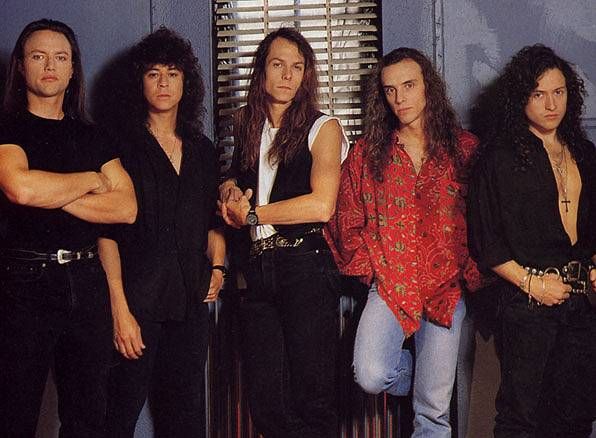 Queensryche Rock/metal band on tour stops in SA. May 23. Hemisfair Park, San Antonio
Vans Warped Tour Yearly festival is fashionably downsizing this year says founder Kevin Lyman. However less bands also means longer sets. Announced groups: NOFX, Chiodos, Thrice, Bad Religion, Underoath, Meg & Dia,  Streetlight Manifesto, Flogging Molly, Alexisonfire, Devil Wears Prada, the Ataris, Less Than Jake, Scary Kids Scaring Kids, Silverstein, and A.K.A.s. No ticket prices or venue as yet. (TBA)  www.warpedtour.com July 2