Concerts Calendar 9/3: Labor Day blast, big fests
Finally, the unofficial end to a red-hot summer 2009 is here with Labor Day 2009! Tons of activities and big shows scheduled in September has a lot to offer in family fun.
Chicos Del Barrio Popular cumbia group unfolds a fun set. Saturday, Sept. 5. Lone Star Saloon, Uvalde. Also Chon Arauza, Sept. 6; Mike McClure, Sept. 4.
VFW Post 76 Labor Day Fest Weekend party includes SoundRave on Friday; Roger Velasquez Saturday, Frank Gomez Sunday, Tribute Band
 Monday. Also Final Cut Sept. 11; Bad Neighbor Sept. 18; SoundRave Sept. 19; Roger Velasquez, Sept. 25; Wilbert Beasley Sept. 26.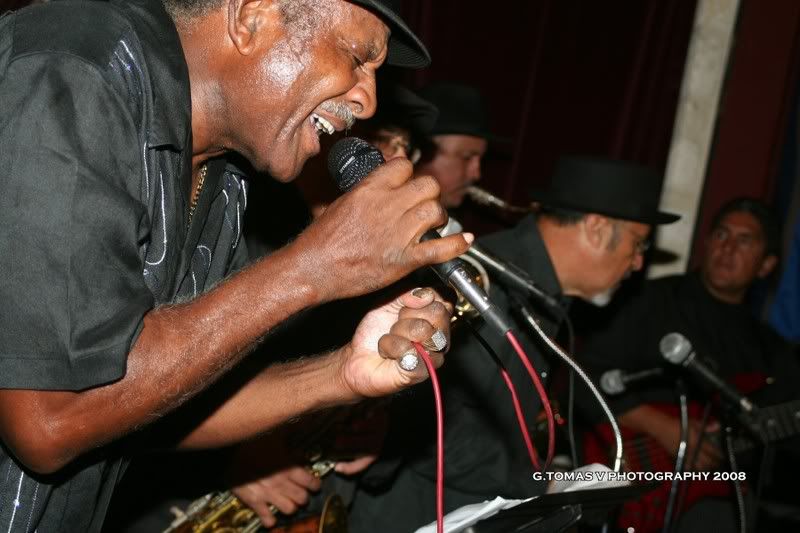 Weston Wright Benefit for San Antonio Lighthouse Lighting the Way 5K Walk/Run. Saturday, Sept. 26, 2009. Mission County Park I.. Benefits their SALB rehabilitation, vocational training, job placement, and Seniors programs for the blind and severely visually impaired.
Cadillac Bar Sept. 3, La Kalidad, Michael Salgado, Carlos Y Los Cachorros and more. Sept. 4 Final Cut. Sept. 10 Jorge Alejandro All-Star Anniversary Bash with Michael Salgado, Gary Hobbs, LIberty Band, 5-Star Band. Sept. 11 ATM, Johnny Cruz and
others. Sept. 24 Ruben Ramos in Grammy recognition and CD release. Also featuring Elizabeth Brackman, 5-Star Band, Pete Astudillo, Voces de Tejas, Hot Sauce Band, and Brandon Olmos. $10 GA and also $50 for acoustic set with Ruben Ramos. Between sets each night redhot DJ Saint spins the discs. Cadillac, 212 S. Flores. (210) 223-5533
Salsa Brava Orchestra Salsa outfit uncorks the rhythms tonight. Also DJ Papote spinning merengue, salsa, bachata reggaeton and more. Old San Juan Restaurant/Discotex, 4429 Walzem at Austin Highway 599-9990
Ruben Ramos Tex-Mex singer headlines Super Pre Labor Day Dance with his Mexican Revolution Band. $15. Saturday, Sept. 5. El Gallito Ballroom, Edinburgh. http://www.myspace.com/lermaproductions2003 (956) 414-4760
Tejano Female Super Stars Schertzfest 2009 Featuring Leslie Lugo Band, Shelly Lares Band, and Las Voces which include Shelly Lares, Leslie Lugo, Stefani Montiel, and Patsy Torres. Schertz, Texas. Oct  2.
Campanas de America Scholarship Concert Featuring Campanas and also guests Liz Torres, Tito Puente Jr. Sponsors: Also Leticia Van de Putte R. Ph. District 26, Texas State Senator Ruth Jones McClendon District 120, 7 P.M. Sept. 25. Scottish Rite Museum, 308 Avenue E.  210-224-0258 $25
Tejano Thunder 2009 Live music and Tejano cookoff barbeque. Featuring Chente Y Taconazo
and Houston's CelsoTorres y Fuzion and Oscar G. Saturday, Oct. 3. Fort Bend County Fairgrounds. 4336 Highway 36 S., Rosenberg, TX. (281) 667-5118. This e-mail address is being protected from spambots. You need JavaScript enabled to view it
Roger Velasquez Solid artist to play Club Cheaters on Roosevelt Ave on Thursdays 8/27. Velasquez latest CD is latest CD, "Quiero Besarte," produced by Bob Gallarza. www.thecottongin.net and This e-mail address is being protected from spambots. You need JavaScript enabled to view it www.myspace.com/rogervelasquez
David Lee Garza y Los Musicales Host DLG Golf Tournament. Pleasanton, TX Oct. 12  Also, performance at 10/23 Blessed Sacrament School Festival.
BBQ Fundraiser Gathering to help Melanie Cooper Aguillen fighting against kidney cancer.  She is participaitng in NFK Walk on Oct. 17. Fundraiser with BBQ plates for $6. set for 11 a.m.-3 p.m. Oct.10. Cadillac Bar, 212 S. Flores. Details contact Florence McDaniel, (210) 829-1299, ext 19
Academy of Tejano Artists & Musicians Festiball Group presents 3rd Annual Tejano Academy FestiBALL. Featuring Show-n-Shine, Washer "Wacha"- Pitching Contest, Golf Ball Drop and performances by various bands. Mission County Park- 6030 Padre Drive. 8 a.m.-11 p.m. Sunday, Nov. 1. Free.
Rocky Hernandez & OBG Veteran outfit with Danny Esquivel as lead singer, plays oldies but goodies and now take new residency Fridays at Lerma's Nightclub, 1602 Zaramora.
9th International Accordion Festival World class musicians and artists gather for major accordion showcase. Featuring Joel Guzman, Sarah Fox, Mingo Saldivar y los Tremendos Cuatro Espadas, Jamie y los Chamacos, Elias Lammam and the Georges Lammam Ensemble, Ivan Milev Band, Guy Klucevsek, Daniel Diaz, Hugh Morrison and Lone Star Stout, Jo Miller and her Burly Roughnecks. Admission $10. Friday; free Saturday-Sunday. Oct. 9-11. La Villita.
11th Annual El Veterano Conjunto Festival Robbstown's annual conjunto festival honoring all Veterans in memory of Eligio Escobar, has been moved to San Antonio. Presented by Linda Escobar featuring Chano Cadena Y Su Conjunto, Boni Mauricio Y Los Maximos, Los D-Boyz de Kingsville, Linda Escobar, Lobo IV, Los Arroyos Del Rio, Los Padrinos, Mickey Y Los Carnales, Lazaro Perez Y Su Conjunto, Conjunto Temblor, Conjunto Siguele de John Saenz, Kailey Dodson y Su Conjunto. VFW Post 9186, San Antonio. Noon- 11 p.m. Sunday, Nov. 8. Military Ceremonies by Brothers of Fallen Heroes. $10. BBQ Plates will be sold. All proceeds benefit the Veterano Scholarship Fund. Details: Linda Escobar at (361-442-3962) or email: lindaescobar@ live.com
Dwayne Verheyden Top accordionist from the Netherlands comes in a special performance. Also backing him Roger Garza and Rodney Galindo. Ruben's Place. Oct. 3. $10. For reservations call Amie Castillo at 210-872-1812.
Los Tovares Solid group of brothers mixesTejano and conjunto. Plays Fall Festival, Our Lady of Angels Church, 1214 Stonewall St. Saturday, Oct. 3. (210) 924-6591
Oscar Rodriguez Virtuoso guitarist plays a hot mix of rock, blues, Tex-Mex and more. Grant St. Pizza, 8 p.m. Fridays; Pat O'Briens, 3 p.m. Saturdays.
Dancing Under the Stars Weekly Thursday night jam session on the patio hosted by Los Hermanos De Leon with special guests who drop in. Regulars include Andy Saenz of the Homies, Salvador "El Pavo" Garcia of Los Pavo Reales, Bene Medina, Coy Serna, Mambo Ibarra, Henry Galvan, Flavio Longoria. Thursdays, Bosmans, 672 Elks @ Zarzamora myspace. com/bosmanshbk1, (210) 924-1016
Main Plaza Lunchtime and afternoon concerts. (210) 225-9800 www.mainplaza.org Music Festival includes various events. Foxy, accordion & Chucho Perales, bajo sexto, Sundays. (210) 225-9800 www.mainplaza.org  
Tejano ROOTS The 2009 Tejano ROOTS and Hall of Fame event. Performers to be announced shortly. The 10th Annual Noche de Fiesta Tejana is scheduled for POSTPONED- until a future dateis annoucned. OLD POSTPONED DATE Saturday, Nov. 21, 2009 at VFW Hall in The Birthplace of Tejano, Alice, Texas. http://www.tejanorootshalloffame.org/
Creed Rock outfit returns on tour and back in town. Sept. 24. AT&T Center. Creed: Scott  Stapp, Mark Tremonti, Scott Phillips and Brian Marshall. www.creed.com Tix on sale Saturday, May 9. 800-745-3000 OR 210-224-9600.
Daniel Monserrat Singer plays Fridays, Wednesdays. La Marginal, 2447 Nacogdoches Rd, (210) 804-2242