Page 1 of 2
  donated to YMCA. Raising money for next years 7th Music at 4 pm with Marty Lat, Jerry Vista Muzik, Heather Go Psycho, Blackout Riot, Fall of Idols, Given A Chance. Viet Ruse.
Annual Amps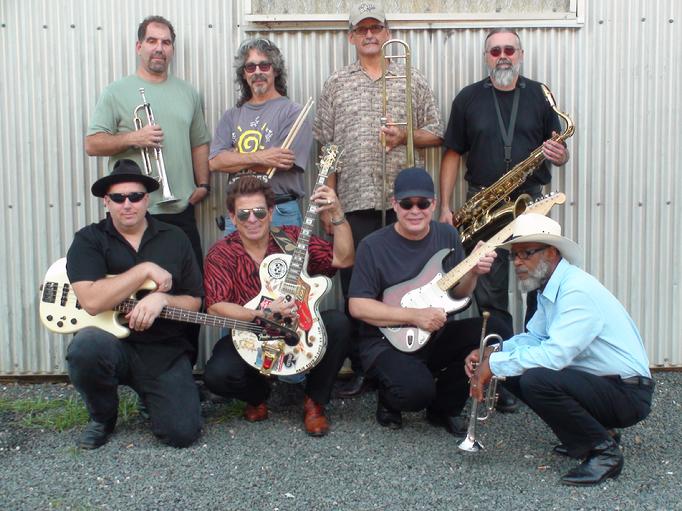 & Easels Festival @ Camargo Park, a yearly festival celebrating local artists and musicians. $5 plates include Enchiladas, Rice Beans, Corn Bread. Hausmann Millworks, 925 W Russell. 2-10 p.m. Saturday, Jan. 16
Los Aguilares' Anniversary Dance According to our correspondent Trina Guevara, this will be a great shjow with Los Aguilares, Ruben Ramos, Grupo Maldad, Mario Montez Y Sierra, Agustin Ramirez, Joe Bravo. and other groups. Advanced tickers are $20 at Janiies' Records, Del Bravo and Randys. $25 at the door.Jan. 16. at Randy's Ballroom.
Grupo Maravia Tejano/Variety band plays mix of hits and classics. 9:30 p.m. Saturday 01/16 at Club Movida
Club Damas De Puerto Rico Celebrates Las Octavitas with msuic by Parranda. Sunday, Jan. 17. Old San Juan Restaurant, 4429 Walzem Road Rsvp-Yvette Caro 655-7858 Or Sheila Grau-Lopez 545-5963
DJ Jumpin Jess Teams up with DJ Jota Erre. Djaying the best of Old School, Hip-Hop, Dance, Tejano , Latin pop and more.. Fridays. 6th Street Bar & Grill, 2701 White Oak Blvd @ Studemont.

Los Desperadoz Neo-trad Tex-Mex outfit returns to the big stage this Friday at Cool Arrows nightclub, 1027 Nogalitos. (210) 227-5130. Also Banger Bros Feb. 12.
Los Dos Gilbertos Solid conjunto group sparks it up. Hosted By: R.D. & Slick Entertainment Production  Friday, Jan. 15. Gold Crown, 205 W San Antonio St., San Marcos
La Tardeada Late afternoon of live music featuring Sunny Ozuna, David Lee Garza, Final Cut Band, Jorge Alejandro y la Paz, Los Cachis, Los Tornados, Double Shot Band. 6 p.m.-midnight. Sunday Jan. 17. $10. Stardust Ballroom, 1599 Bandera Rd. (210) 431-2711. Presented by JAK Records. Sponsors Nabor de Leon Bail Bonds, Janies Record Shop, La Prensa, Tejano Academy, Ramiroburr.com, Cadillac Bar, JorgeAlejandro.net, Tejano Music Awards, Univision, Graphic Studio, Rocket Car Wash, Street Talk Magazine, Texas Tint, Blue Cat Studio, G. Studios, Del Bravo Record Shop
Kerrville Comedy Explosion Featuring Roman Garcia, Cleto Rodroguez, Vance Bradford. Music By DJ Rubio. Jan. 30. Santo Coyote Club, 2124A Sidney Baker. Kerrville. www/myspace.com/acemancomedy
Valentine's Day Dance Featuiring Anthony Hernandez, Lisa Marie Sharp and Stan Wayne. 6 p.m.-1 a.m. Feb. 14. Pueblo Hall, 3315 Northwestern. $7. Details: Jina Hernandez jinaink.com, or call (210) 520-7400
Grupo Vital Friday night for Wallisville cook off after party. Palmer's Ice House, Houston.  Also Johnny 'Conjunto' Cruz Jan. 16. Also "Traffic Jamz" every Wednesday and Thursday.
El Grupo Energia Host their CD Release Party for new CD "Conmigo Diferente." 7 p.m. Thursday, Jan. 21. Los Rieles, 7922 Longpoint, Houston. www.ElGrupoEnergia.com
67th annual Golden Globes Awards Actors, actress perk up for the big one. Sunday, Jan. 17, 2010. Beverly Hilton, Los Angeles. Televised NBC.
Screen Actors Guild Awards Another major awards show for acting. 16th annual Screen Actors Guild Awards. Los Angeles. Jan. 23.
2010 Grammy Awards Biggest awards show in music business - 52nd annual Grammy Awards. Jan. 31. Staples Center, Los Angeles. Televised on CBS.
Roger Velasquez Classic Tejano, R&B, funk and more on tap. Friday, Jan. 16. Cadillac Bar, 212 S. Flores. Also,Maravia, Jan 22; Lobo IV, Jan 29.
2010 San Antonio Rodeo Annual shindig among the biggest rodeos in the US. This year's lineup: Randy Houser, Thursday, Feb. 4; Lady Antebellum, Friday, Feb. 5; Tim McGraw, Saturday, Feb. 6; Selena Gomez; Sunday, Feb. 7; John Rich With Cowboy Troy, Monday, Feb. 8; Darius Rucker, Tuesday, Feb. 9; Third Day, Wednesday, Feb. 10; Casey Donahew Band, Thursday, Feb. 11; Foreigner, Friday, Feb. 12; James Otto, Saturday, Feb. 13; Rodney Atkins, Saturday, Feb. 13; Blake Shelton, Sunday, Feb. 14; Pesado (substitued for Ramon Ayala), Sunday, Feb. 14; Dierks Bentley, Monday, Feb. 15; Trace Adkins, Tuesday, Feb. 16; Alan Jackson, Wednesday,
Feb. 17; Toby Keith, Thursday, Feb. 18; Gary Allan, Friday, Feb. 19; Jake Owen - Xtreme Bulls; Saturday, Feb. 20; Eli Young Band, Saturday, Feb. 20. AT&T Center.
Ramiro Herrera Top singer celebrates birthday Jan. 15. Graham's Central Station.
Salsa Brava Orchestra Salsa outfit uncorks the rhythms tonight. Also DJ Papote spinning merengue, salsa, bachata reggaeton and more. Old San Juan Restaurant/Discotex, 4429 Walzem at Austin Highway (210) 599-9990.
Grupo Kilombo Band featuring Georfgie Padilla headline Latin City Nights. Tabu Lounge, 245 E. Commerce. Also coming up Victor Manuelle, Feb. 5. (210) 222-4700. No cover.
Night of Mayhem Special Latin Fridays night. Also free salsa lessons by Lee Rios. Coco Chocolate Lounge, Fridays.
Doña Rosita's Jalapeños Kitchen Talento Bilingue presents big bash comedy with Ruby Nelda Perez. Talento Bilingue de Houston, 333 S. Jensen Dr. Friday, Jan. 22 at 8 p.m. Also Making a Difference Exhibit, Tuesday, Jan. 12
Honeybrowne Singer brings it on.Jan. 15. John T. Floore Country Store, 14492 Old Bandera Road, Helotes, (210) 695-8827. Also Roger Creager plus Ryan Beaver Jan. 16. www.liveatfloores.com
Pre Valentine's Day Dance Featuring Grupo Vida Wild group teams up with Johnny "El Brujo" Cruz and the T.C.G. $12.Feb. 12. BB Wolfs, 12220 Murphy Rd., Stafford, Texas
Legendary Tribute Band Group is made up of former members of legendary Sunliner Band and now play 8 p.m. Fridays.  SMOKE-FREE Pueblo Hall, 3315
Northwestern. Contact Mary Jane Esquivel (210) 520-7400 http://pueblohall.net
Roger Velasquez & Latin Legends Top notch band unleashes
red-hot mix of cumbias, R&B, oldies, Tex-Mex and more. Featuring accordionist Jose Macias. bassist Pete Garza, drummer Val Guardiana, keyboardist Mark Anthony Hernandez and horn players Al Gomez, Frank Perez, Gilbert Escobedo. That Macias is a solid versatile youngf talent who captivates when he's focused. The horn players are legendary but always call ahead as guitarist/singer Roger only brings the horns on certain gigs. Friday at Cadillac Bar. Jan. 21, B & N Sportsbar #2 4910 S. Flores; Jan. 23, Raffles Restaurant; Jan. 29 Club Movida, 306 E.Mitchell; Jan. 30, Bar on Broadway, 2411 Broadway;Feb. 6, Panchito's West Avenue 12403 West Avenue 
Elizabeth La Cantante Versatile singer plays a mix of cumbias, Tex-Mex and classics. Fridays. Los Generales Restaurant, 16216 Nacogdoches Rd. No cover. (210) 63f7-3331.
Pink Floyd Laser Spectacular Real dazzler of a laser show synched to "Dark Side of the Moon" and other Pink Floyd classics. Jan. 22. $26.50-$32.50 Ticketmaster. Majestic Theatre, 224 E. Houston St., (210) 226-3333. Also Michael Jackson Laser Spectacular, 8 p.m. Jan. 23. $26.50-$32.50.
Jay-Z Major rap/hip-hop entertainer on tour. Latest CD "Blueprint 3." Opening Young Jeezy. $49.50-$129.50 Ticketmaster outlets. 7 p.m. Feb. 22. Toyota Center, 1510 Polk St., Houston. (713) 758-7200. 
Zona Jones Country singer brings it on. Lone Star Saloon, Uvalde. Jan. 15. Also guest 12th Anniversary Party with Solido, Hometown Boys, AJ Castillo, Carlos Y Los Cachorros, Krazy Pimps, Latin fusion TV, Ruben Ramos. Jan. 17.
Hilda Lamas Upcoming performer slides in to the Mug Room, 5114 Carroll Lane, Corpus Christii. Friday, Jan. 29.
Academy Awards Movie star time in 82nd annual Academy Awards - the most coveted awards for big screen acting. March 7
VFW Post 76 Live music series at scenic historic post by SA River continues. VFW Post 76, 10 Tenth St (210) 223-4581 www.vfwpost76.org
19th Annual Mariachi Invitational Featuring six professional mariachi groups in competition. Also juvenil mariachis, infantil mariachis, as well as other artists. March 13-14, 2010. Verizon Wireless Theater, downtown Houston. $20-$30. Also March 14 at Reliant Park.
If you're a band, singer, manager, promoter, record label, or nightclub owner/manager, event producer, non-profit, send us your schedule: This e-mail address is being protected from spambots. You need JavaScript enabled to view it
2010 Valentines Dance Edgewood