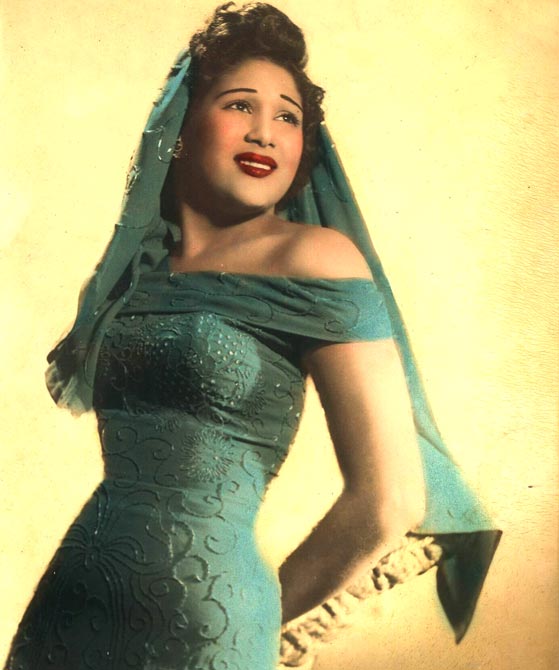 For decades she was known as the "Queen of the Bolero," that smoky, bluesy song style that's captured generations of fans.
Her name was Olga Guillot and if that name does not ring familiar you were likely born decades after she began to make her mark.
Guillot died Monday after a heart attack. She was taken to Miami Beach's Mount Sinai Medical Center where she was pronounced dead.
She was 87.
According to Notimex and other wire services, Guillot dominated the music scene in the '50s and '60s.
In her lengthy career she collaborated
with a bevy of top artists including Sarah Vaughan, Edith Piaf and Nat King Cole. Reportedly she also coached Cole on how to sing in Spanish when he recorded one of his famous albums in Cuba.
She was born in Santiago De Cuba on Oct. 9, 1922. After moving to Havana, she began her singing career at 14. She would also perform with her sister Anna in the duet Hemanitas Guillot.
In a lifetime of accomplishments, perhaps her signature song was "Mienteme," a bitter tale of betrayal, by Mexican composer Chamaco Domínguez.
``She established a style of interpreting songs. . . a first lady of the stage,'' singer Renée Barrios told the Miami Herald. ``She blended the styles of American interpreters with those of the Cubans.''
Guillot was konwn for her rapsy voie, often called the singer who sang tenderness with a rough voice.
Additional details from the Herald report:
According to published biographies, she made her debut as a solo artist in 1945 at Havana's Zombie Club, and a year later became known in the United States when she recorded a Spanish version of Stormy Weather.
In the 1950s, Guillot became a fixture on Cuban radio and television and popularized songs such as Tú me acostumbraste, La gloria eres tú, La noche de anoche. She also worked in Mexican cinema.
Like the late Celia Cruz, Guillot always wore the pain of being in exile on her sleeve -- and like many of her older fans, she yearned for the Cuba of old and was a vivid representative of it for those fans.
``Pobrecita mi Cubita linda (My poor little Cuba),'' she said late last year at the premiere at Hialeah Senior High School of 50 Años de Exilio (Fifty Years of Exile), a documentary produced by Univision on the history of Miami's Cuban exile community.
From Agencia Venezolana:
La Guillot es definitivamente una de las figuras más trascendentales de la historia de la canción del siglo XX.
Con una carrera de 20 discos de Oro, 10 de Platino y uno de Diamante, Olga Guillot es reconocida como toda una institución de la canción popular que se sigue escuchando por los escenarios del mundo.
Hablar de esta insigne bolerista es pasearse por el nacimiento del bolero, por así decirlo, pues trabajó con los compositores más famosos del género, entre ellos, Agustín Lara Candoral y José Alfredo Jiménez.
Que Olga Guillot grabara determinado tema era garantía de éxito, dada su popularidad en el ámbito internacional. Olga llegó a grabar con el trío Los Panchos y triunfó en España.
Llevó la pieza Adoro, de Armando Manzanero, a la fama mundial y grabó el tema Me muero, me muero, de la mexicana Lolita de la Colina, gracias al cual se le consideró la pionera de la canción erótica.
Olga Guillot, legendary Cuban singer, dead at 86
Obituaries of note for July 13, 2010‎
Cuban Queen of the Bolero Olga Guillot Dies