DUELO: delivering romantic tunes, direct lyrics at AT&T Center
With romantic ballads and norteno cumbias, Duelo serenaded their fans Sunday night at the AT&T Center.
The Tex-Mex group, which just released their latest CD "Necesito mas de ti," was the headliner Sunday night for the San Antonio Rodeo.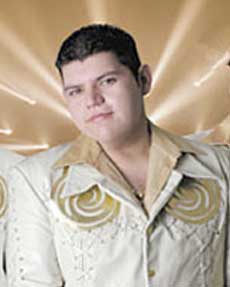 Opening the show at 10:05 p.m. with a set that included the tunes "Olvidame tu," "Aprendi," "La Paloma de Acero ," and "Pobre loco," Duelo performed as if they were in an intimate setting, gesturing and looking directly into the 12,000-plus fans in the lower sections of the cavernous arena.
Lead singer/bajo sexto player  and main songwriter Oscar Ivan Treviño was the center of attention most of the night, especially on the accordion-fueled tune "Necesito mas de ti" where he talked about the longing that comes when you find a good thing.
However, Trevino was ably assisted by a solid group that included the energetic accordion player Dimas Lopez.
The six-man group, formed in 1996 as Duelo Norteño, found a niche playing then-new norteño-romantic branch in regional Mexican music. It was a fertile field which produced other such bands as Iman, Solido, Pesado, and Palomo. These groups are equally adept at norteño cumbias as they are in Tejano polkas, and therefore, easily able to tour both markets, a huge advantage over groups who only play one.
"We are happy to be here,, thank you all for coming," said group MC Mario Angel Pena during a brief pause.
Wearing only blue jeans and a black jacket, Trevino appeared calm and at ease as he went through his setlist. The band's next set included "Porque no te marchas," "Un Minuto Mas," and the uplifting cumbia "Que Hubiera Sido," before segueing into a memorable tune, "Amiga Soledad," whose lyrics describe the darkness and solitude in the aftermath of broken relationship.
They followed with "Desde Hoy" and the startling "Te Compro," on the anger and frustration in a badly out-of-balance relationship.
Duelo's strength is the fusion of compelling lyrics, easy singalong melodies and blending of Tejano and norteno rhythms. As long as they continue with the winning mix, they will continue to build new fans.