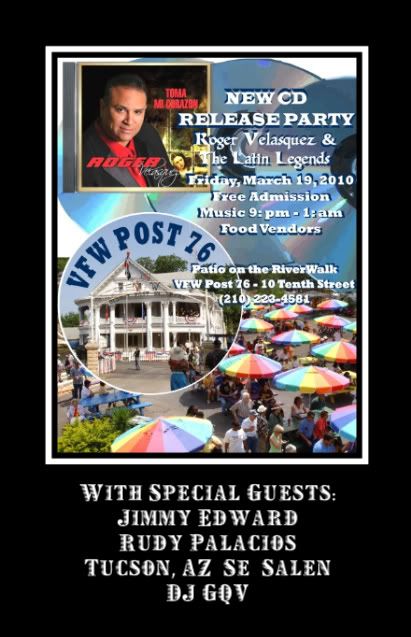 Roger Velasquez is back at it, with a new CD and a new tour.
Velasquez said he co-produced this CD, a change from his previous album but again he chose to return to Gilbert Velasquez Studios to record it.
Roger Velasquez sometimes plays as Roger Velasquez &
the
Latin Legends - which means he includes a three-piece horn section.
His crack unit mixes up R&B, funk, soul and Tex-Mex very nicely. Velasquez is an accomplsihed guitarist, one of the best. He also sings leads on most of his music.
Velasquez is celebrating his CD release with special guests Jimmy Edward, Rudy Palacios and Tucson's Se Salen at 9 p.m. Friday night at the historic VFW Post 76 at 10 10th St. off Broadway. The elegant mansion has great river views, especially at this time of year. 
Admission is free.
He is also playing Saturday at Panchito's on West Avenue @ Nakoma. (210) 473-5744.
The new CD is titled "Toma mi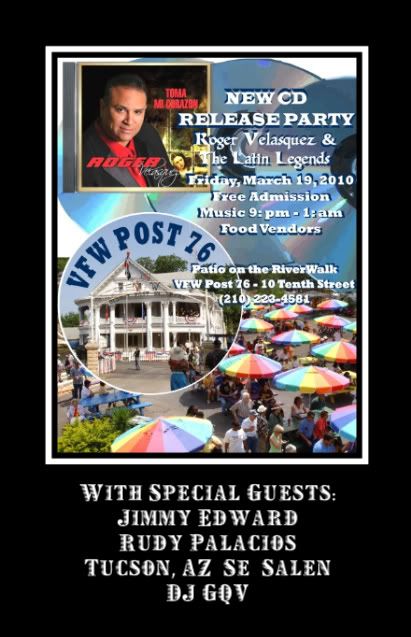 Corzaon."
Co-producer Gilbert Velasquez said he was impressed with Roger's music creativity:
"Throughout the years I've been fortunate enough to have been a part of literally hundreds (thousands?) of recording projects. So many different styles of our beloved 'Tejano' music, so many artists," said Velasquez. 
"Tejano music constantly morphs into this or that or whatever flavor of the time may be. But I must admit, this, what would be called 'orquesta' type of music is what really defines our genre.
"At a time when a band with a horn section is maybe harder to come across these days, it is refreshing to be a part of Roger's CD project for all the obvious reasons. Here is a group of musicians who can breakout a full orchestra sound yet turnaround and play some down home conjunto tracks as well. I have had the opportunity to work with Roger more than a few times in the past and it's always a pleasure to share ideas and come up with a recording like this one here that will live on for generations."
Velasquez also has a brand-spanking new website: http://www.rogervelasquez.net/