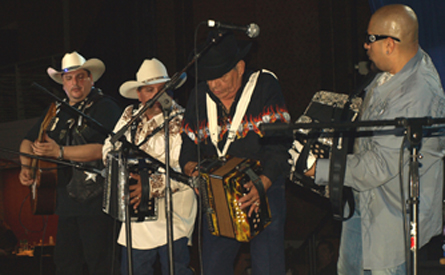 Raul Malo, Pee Wee, Tierra, Girl In A Coma, Texas Tornados, and Arthur Hanlon has been announced as among the performers for the 2010 Tejano Music National Convention scheduled July 9-11 in San Antonio.
The convention will be part of a historic weekend that will see the convention combined with the Tejano Music Awards and the 6th Annual Tejano Academy Awards. The three-day convention highlights include: the Gran Baile, Artist Showcase & All-Star Tejano Jam, and the Tejano Experience USA Fanfare & Expo. Hosting the TMAs which, wil taken place at the Municipal Auditorium in San Antonio, will be actor comedian Paul Rodriguez.
Officials have also announced the performers for the Convention's Gran
Baile on Friday, July 9, at the Henry B Gonzalez Convention Center. These will include the Hometown Boys with special guest Linda Escobar, Serrata Puro Party featuring brothers Jesse Serrata and Rene Serrata with renowned accordionist Bobby Naranjo, Ram Herrera and Michael Salgado.
On Saturday, July 10, the artists for the Convention's Artist Showcase & All-Star Tejano Jam include: Thoze Guyz, Los DesperadoZ, David Lee Garza Y Los Musicales, and the All-Star Tejano Jam featuring The Big Chihuahuas with special guest vocalists David Marez, Raulito Navaira, and Emilio Guerrero.
The 2010 Tejano Music Awards are also being produced by noted producer David Chavez.
"This year's partnership between the two entities will be a Tejano fan's dream," said LatinPointe CEO and Tejano Music 2010 Executive Producer David Chavez. "Our commitment to the fans is to deliver an incredible, star-studded experience paying tribute to the 30th year milestone of Tejano music honors.
"The Tejano industry as a whole, has a huge opportunity this year to join forces and resources in uniting to celebrate this music."
The TMAs are now in their 30th year, and despite some inconsistency in venues and dates in the past, it is still considered the biggest awards event in the industry.
For details on registration, tickets and more check out www.Tejanomusicawards.com or www.Tejanoticket.com. The Tejano Muisc 2010 weekend countdown will officially begin at the upcoming Tejano Music Awards Fan Fair March 19-21 in San Antonio. 
LatinPointe, Inc. is considered the premier agency specializing in connecting, building, and creating unique brands in the Latino market. Through targeted communications, innovative programming, event marketing, and strategic relationship building, LP has been breaking ground with work on some of the most visible Hispanic brands in the U.S. LP's CEO David Chavez has stood alone as the only Latino to executive produce two prime-time television specials in both English and Spanish - the ABC Network ALMA Awards and the Univision Network Premios Deportes.