Michael Jackson: drugs recovered at home; world reax
No surprise, prescription drugs have been recovered by Los Angeles Police at the home of Michael Jackson.
Family lawyer Brian Oxman told Life & Style that police searched Michael's rented Beverly Hills home and took away "bags of material," including vials of prescription
 drugs. Oxman also said he was prepared to name names of doctors who prescribed drugs to Michael.
MORE: Gone: Michael Jackson, icon, global superstar; Grammy react
Oxman said he would help the police investigation into Michael's death, adding, "I did warn him about the drugs, but I am sorry I didn't warn him enough."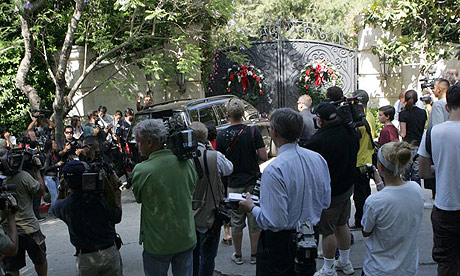 "I am going to wait until I get the toxicology report, and if his death has something to do with drugs, I am prepared to name names of doctors who prescribed them."
Oxman added that the Jackson family was completely devastated. "They couldn't even talk to one another in the hospital. It was total silence, and they were just holding one another's hands."
For full details on Oxman's revelations check out Life & Style Weekly - http://www.lifeandstylemag.com/ 
Meantime, world reaction continues on Jackson's shocking death.
Former Beatle Paul McCartney said "It's so sad and shocking.
"I feel privileged to have hung out and worked with Michael. He was a massively talented boy-man with a gentle soul. His music will be remembered forever."
"I can't stop crying over the sad news," Madonna told People. "I have always admired Michael Jackson. The world has lost one of the greats, but his music will live on forever! My heart goes out to his three children and other members of his family. God bless."
From Lisa Presley: "I am so very sad and confused with every emotion possible. I am heartbroken for his children, who I know were everything to him, and for his family," Presley told MTV News in a statement. "This is such a massive loss on so many levels. Words fail me."
In London,the Guardian quoted From Shirley Bassey: "I have very fond memories of Michael with one dinner in particular where he renamed me Lady Goldfinger. For the rest of the time I knew him that was my name."
Update:
A preliminary autopsy report on Michael Jackson's body is set to be announced this morning in Los Angeles. Lieutenant Ed Winter of the Los Angeles County Coroner's Office said doctors will perform "extensive tests" on the body and are not expecting any definitive results for six to eight weeks.