Guitarist-singer Rachel Laven has been announced as the TMC Jack Skiles Scholarship winner.
The scholarship, presented by the music organization Texas Music Coalition, also announced Ruben Jimenez Jr as second place winner and Raul (Mark) Gonzaba as the third place winer.
Laven receives $500 while Jimenez receives $250. Gonzaba received a one year TMC membership.
Founded in 1998, the TMC is a non-profit organization comprised 
of persons with a professional interest in the music
TMC presents regular workshops, seminars and panels all inthe interest of promoting, helping and guiding artists and musicians in their professional development.
TMC also presents Texas Music Month every October, featuring an intense series of weekly seminars on various aspects of the music industry.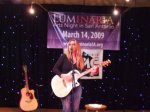 TMC also announced the finalists for the TMC Artists of the year.
 These included Bobby Baker, Katherine Dawn and Laura Marie. TMC members will vote on the artists and results wil be announced at the TMC Fundraiser Oct. 24.
In other news, TMC is presenting a tour and recording studio program given by production guru Chris Lieck on Tuesday, Aug. 17, at his Chris Lieck Studios, 10886 Hillpoint. He'll be giving advice and answering questions on what artists need to know before going in to record. Networking starts 6:30 p.m., program at 7 p.m. Chris is CEO of Chris Lieck Studios, Tejas Records, COMIA (Community of Media & Industry Arts school), the TEG label (Texas Entertainment Group) and Master Labs (professional sound mastering).